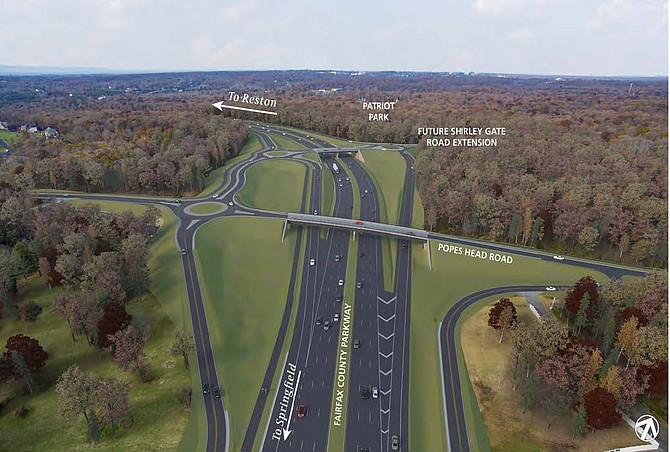 Fairfax County transportation planners are once again looking at the Fairfax County Parkway and the Franconia-Springfield Parkway for potential
areas of improvement to keep the traffic flowing through the county. Although bulldozers are not geared up to start any clearing, the county is now going through the formal procedure to come up with a list of potential short and long term projects for these high volume roadways.
According to the Fairfax County and Franconia-Springfield Parkway Alternatives Analysis and Long-Term Planning Study, published Aug. 20, 2019, the parkway is divided into five segments for planning purposes:
Route 7 to Franklin Farm Road
Franklin Farm Road to Route 123
Route 123 to Rolling Road and Franconia-Springfield Parkway
Franconia-Springfield Parkway to Richmond Highway
Rolling Road and Fairfax County Parkway to Beulah Street
When data was collected, the most feedback was from Segment 3, while Segment 5 had the most support for bike trails on both sides of the parkway. A large number of drivers were interested in changes at the Popes Head Road and Burke Center Parkway interchanges but any High Occupancy Vehicle ideas throughout the corridor received low support. New park and ride lots received the most support at Rolling Road and I-66.
To get a realistic look at what area drivers want with both of these roads, Fairfax County Department of Transportation (FCDOT) is on to round two of the comments, so they can gather feedback from residents. The second round of getting feedback ends on Aug. 31 and then they will compile the comments to submit ideas for the county comprehensive plan.
Based on the feedback, the study team will develop and evaluate final recommendations in its transportation models to ensure that the recommended improvements address future demand and commuter needs, the county said.
FCDOT will present the final recommendations to the Board of Supervisors this winter. Once the Board of Supervisors have endorsed the study, FCDOT will begin the process of amending the Comprehensive Plan in Spring 2021. FCDOT will prioritize recommendations from the study to show what may be implemented in the near future or over a longer (10-50 year) horizon, as funding allows, so most improvements will not happen right away.
Coming Soon
From the looks of the suggestions, the southern part of the parkway received much attention. It had the most feedback and suggestions, and currently has a project on the books to add another lane from Route 29 to Ox Road, or Route 123. Over the past year, there have been a couple of public information meetings on this project, and right-of-way acquisition is scheduled to begin before the end of 2020..
This $290 million project is listed on the Virginia Department of Transportation website, under "In Design," and the final public information meeting on this project was in December 2019. As the plan is now, they will widen about five miles of Fairfax County Parkway from four lanes to six between Route 29 (Lee Highway) and Route 123 (Ox Road). The traffic signal at Fairfax County Parkway (Route 286) and Popes Head Road (Route 654) will be replaced with an interchange, including access to the future Shirley Gate Road extension and Patriot Park. Those plans are still
Deadline: Aug. 31
Comments are still being accepted, until Aug. 31. To submit a comment or your ideas for the Fairfax County Parkway and the Franconia-Springfield Parkway:
Email comments by using the Feedback Form link https://www.fairfaxcounty.gov/transportation/study/fairfax-county-parkway
Call FCDOT at 703-877-5600, TTY 711.
Mail comments to Fairfax County Department of Transportation, Attn: Fairfax County & Franconia-Springfield Parkways Study, 4050 Legato Road, Suite 400, Fairfax, VA 22033
being further developed and refined, it states on the website.
Both the interchanges at Route 123 and the Fairfax County Parkway/Burke Centre Parkway will be redesigned, and the shared use path will be completed. Right now there is a missing segment between Burke Centre Parkway to Route 123. Everything on this project is scheduled to be complete "as early as 2023," the website says, but there are parts of it where the funding has not been identified, so no date is given for these parts of the project.