Concert pianist Robin Spielberg is elbow-deep in paint—deep purple for the accent wall and lavender for the others—as she turns daughter Valerie Kosson's childhood bedroom and the adjacent guest room into a Lebanon Valley College classroom.
The pine furniture with a high-gloss finish got multiple layers of white splash, and Pinterest inspired the purchase of botanical wall decals. A new bedspread was added to pull the colors together for the music major, who is about to start her senior year in a four-bedroom Colonial in New Freedom, Pennsylvania.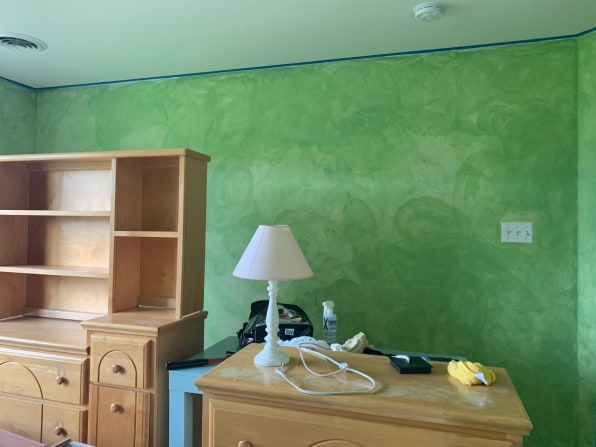 "Now that we're coming into this, she said, 'I think it's time to have more sophisticated space for living and learning,'" Spielberg recalls. "She's mourning that she doesn't have an apartment."
The accent rugs, storage boxes, and curtains will likely come from Bed Bath & Beyond, which recently sent a coupon.
That's exactly what the Union, New Jersey-based home furnishings chain wants to hear. The company launched a new College From Home section on its website yesterday for the millions of college students who are getting ready to learn from home in the fall.
Sample setups to inspire Martyn Lawrence Bullard wannabes are Chill Camp Vibes (rustic and muted), Low-Key Bohemian (bright and cozy), and Modern Glam (mature and chic). In addition to student-friendly furniture and accents, the College From Home silo includes design tips, a quiz to help students zero in on their own style, and the option to get paid help from Decorist, an online interior design service.
"In July, we saw searches on our site up more than 200% for desks and office chairs compared to the same period last year. They need design guidance and inspiration to create a conducive space—whether they're living at home or on campus," Cindy Davis, executive vice president and chief brand officer of Bed Bath & Beyond and president of Decorist, said when College From House was unveiled. "In our survey of college students, about seven in 10 students say decorating their dorm is important to them and their dorm decor is an expression of self."
Back to school rebooted
Back-to-school shopping has always been an important time for Bed Bath & Beyond. Incoming freshmen need to deck out their dorm rooms—Hello, twin XL sheets!—and returning upperclassman are looking to either outfit a new off-campus apartment or freshen up their existing stock of dorm-life goodies such as storage organizers, shower caddies, and desk lamps.
The emphasis now is overhauling or at least sprucing up childhood bedrooms or reclaiming them from exercise-room-creating parents. Bed Bath & Beyond is aiming to be there when a Harry Styles poster is replaced by a copy of Swann's Way.
Seth Basham, managing director of equity research at Wedbush Securities, estimates that back-to-school purchases represent 10%-20% of sales during the company's second quarter, which ends this month. In general, back-to-school is historically biggest in the last two weeks of July and the first two weeks of August, though this year, with students returning for classes early, late, or not at all, that is shifting.
"Initially, people during the pandemic made do with their dining room tables, but now, they're home later, looking for desks. That could be college students as well as professionals," Basham says.
Despite the high jobless rate—10.2% in July, according to the Bureau of Labor Statistics—and the recent loss of the additional $600 in unemployment aid, Americans have disposable income. Spending on travel, entertainment, and restaurants is typically more than four times what consumers dish out for home furnishings and home improvement, Basham points out, but many of those activities are on hold at the moment.
"People want to make their homes more livable and enjoyable. I don't think that it's a measure of pinching pennies everywhere," he adds. "You avoid spending excess on home goods, but you want to be living and working in a place that is manageable."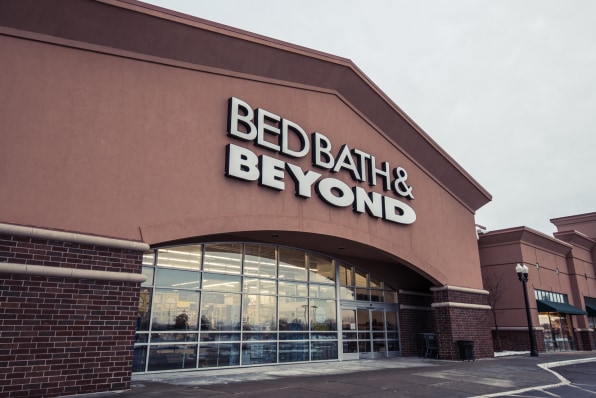 Bedtime for retail
Bed Bath & Beyond has its challenges. The chain saw total net sales plummet 49% from close to $2.6 billion to a little over $1.3 billion during its first quarter, ending in May, due to temporary store closures at the height of the COVID-19 pandemic. And last month, it announced plans to permanently shutter approximately 200 in the next two years.
Meanwhile, sheltering-in-place has inspired a new wave of DIY activities—and not just making sourdough bread. YouTube has numerous how-to videos for furniture refreshes, and TikTok features endless posts of college students' bedroom before-and-afters. Plus, with as tactile a purchase as furniture, some shoppers still want to see items in person before buying a whole new bedroom setup, and those concerned about masking and social distancing will just hold off.
Spielberg, who bought most of Kosson's dorm decor from Bed Bath & Beyond three years ago and last year added shoe storage and a toiletry holder to the mix, doesn't plan to purchase any big-ticket items for the fall. She's unemployed, as is her husband, who owns a talent-booking agency.
"We're not buying stuff. We're upcycling stuff to make it all work," she says. "This is what we're in the market for—a big bulletin board or whiteboard or picture frames. All the stuff that's in there is babyish. She's not going to want that back."