The Army Corps of Engineers has hired an Algiers construction firm to build a combination of permanent floodwalls and temporary structures to protect the Corps' vulnerable nerve center from floodwaters. 
The project aims to keep the Corps' headquarters safe from potential flooding from the Mississippi River. It will shore up the protection along the river side of the agency's building on Leake Avenue in Uptown. 
APC Construction LLC, a minority-owned business with a history of Army construction contracts, will be paid $8.9 million for the work, which also will include installing steel sheet piling and metal stability H-shaped piles as part of the permanent floodwalls. The temporary walls will be moveable to allow more room for parking and other work on the headquarters campus.
The work also includes the addition of concrete scour protection on the batture side of the levee along the headquarters property. 
The long-delayed project is the last segment of East Bank river levee in the New Orleans area to be elevated to protect against the potential combination of high river water and hurricane storm surges.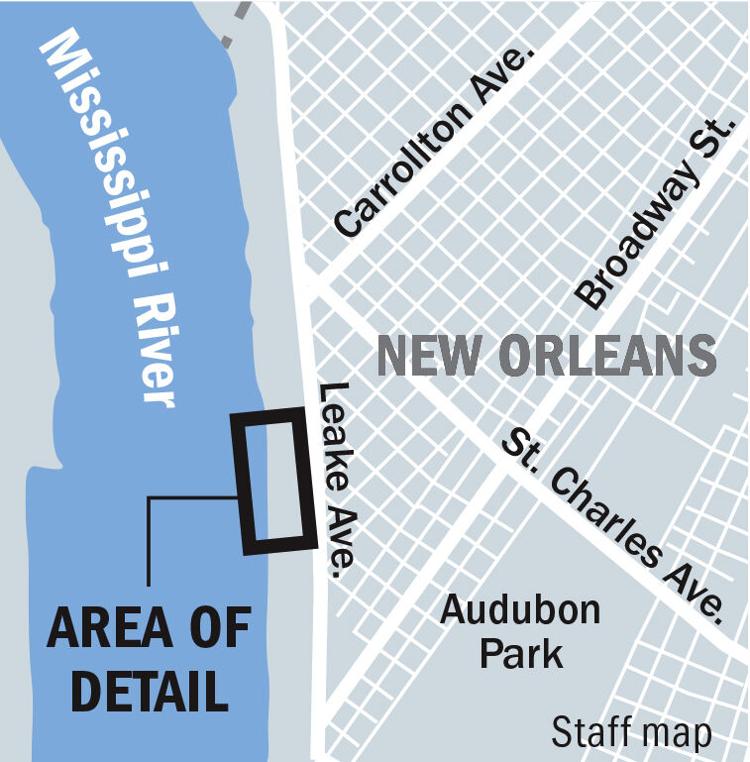 The 3,000-foot section of river levee on which the headquarters building sits is supposed to be at least 24 1/2 feet above sea level to protect from overtopping, but at least 500 feet of it is 19 1/2 feet or lower, and the rest is between 2 and 5 feet too low.
During high river periods over the past two years, the Corps has stationed sand-filled Hesco baskets and other materials in the headquarters parking lot to be deployed in the event that the river threatened to overtop the levee. 
The project was proposed in the 1990s, but was not funded by Congress until 2019. That was several years after construction of floodwall improvements in the French Quarter and other parts of the city downriver, and the elevation of earthen levees upriver in Jefferson Parish to deal with similar height irregularities.
Construction is expected to begin in late September and be completed by March 2022.